Hey Guys~!
A few days ago I posted a list of the worst anime I watched in 2014. Today will be on a happier note as I share my top ten anime of 2014. As a disclaimer, not all of these came out in 2014, but I watched them this year. Also your favorites don't have to me mine, this is just my opinion. And they aren't in any particular order, but I did like some of these more than others. So let's start~~!
Rozen Maiden Zurückspulen: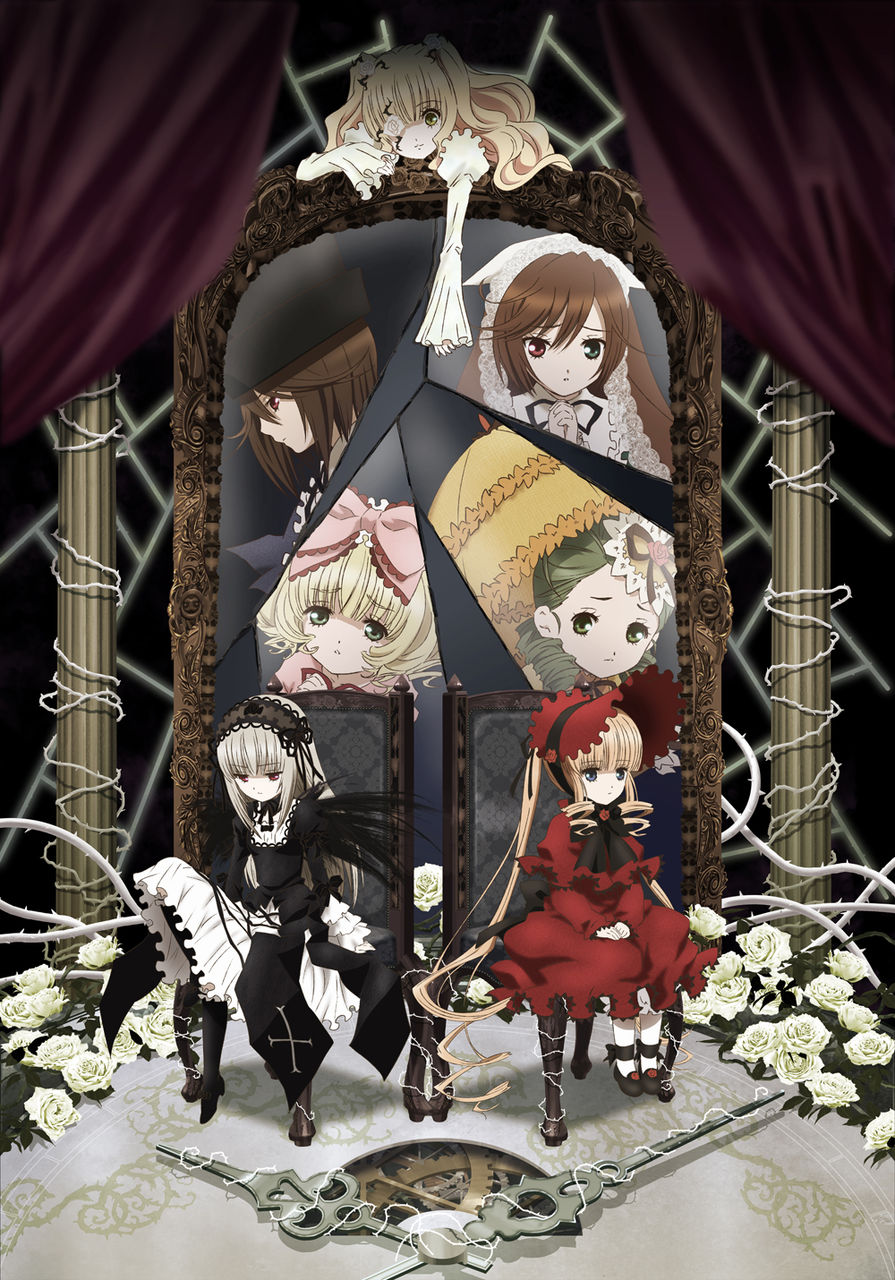 This is the fourth season of one of my favorite anime. The Rozen Maiden is a supernatural series about seven dolls, that were created by a man named Rozen, to fight each other in a battle called the Alice Games, in order to become the perfect doll. The series begins with the seventh doll awakening, and after seeing the dolls getting along, decides to target them one by one and win the battle. Don't let my summary of this anime being about dolls fool you, there are some scenes that are cringe worthy and some of the emotional scenes really pull at you. There were new animators for this season, and visually it was beautiful. I would recommend watching the other seasons first, but at the beginning of the series, they're is a summary of sorts explaining what happened.
Dangan Ronpa:
I really did enjoy this anime. It's about fifteen students that are trapped in a high school and are told that the only way they can get out is to murder one of their classmates. But they have to get away with murder too after an investigation and a trial. It's kind of like battle royal/hunger games, but instead of real red blood, there's pink blood...Yeah, I thought that part of the show was a little weird too. But none the less, the animation is really unique and I really did enjoy watching it. It is a psychological horror anime, so if you don't like anything graphic or get scared easily don't watch this show.
Golden Time: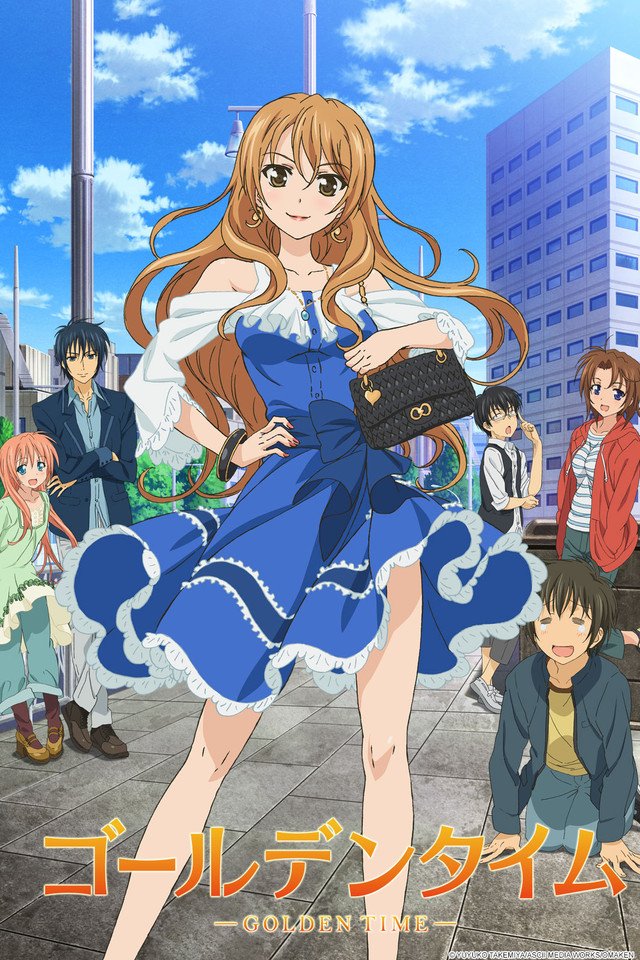 The first romance anime on this list~!! This one is about a guy who suffered amnesia and is now struggling to figure out how to deal with his past and future. He falls in love with a girl, but soon after he reconnects with another girl from his past. I really, really, enjoyed this anime. The relationships between the main character and the two girls are well written and you can really feel what they're feeling. The animation is also very well done. And this is one of the few romance anime that I got invested in so much that I cried at the end.
Higurashi When they Cry:
Speaking of crying, here's an anime that may make you cry is you get scared easily. I can't really explain the plot without spoiling everything. So all I can say is that the anime is about a guy who moved to a rural town with his family. Every year at the towns cotton festival, one person is murdered. However once he moves to the town, he starts becoming suspicious of his new friends. It is a mystery and as you watch it, you figure out little things, and I personally really enjoy it. This anime is of the psychological horror genre, and I will say that some of the gore in this is very graphic and did bother me.
Say "I Love You":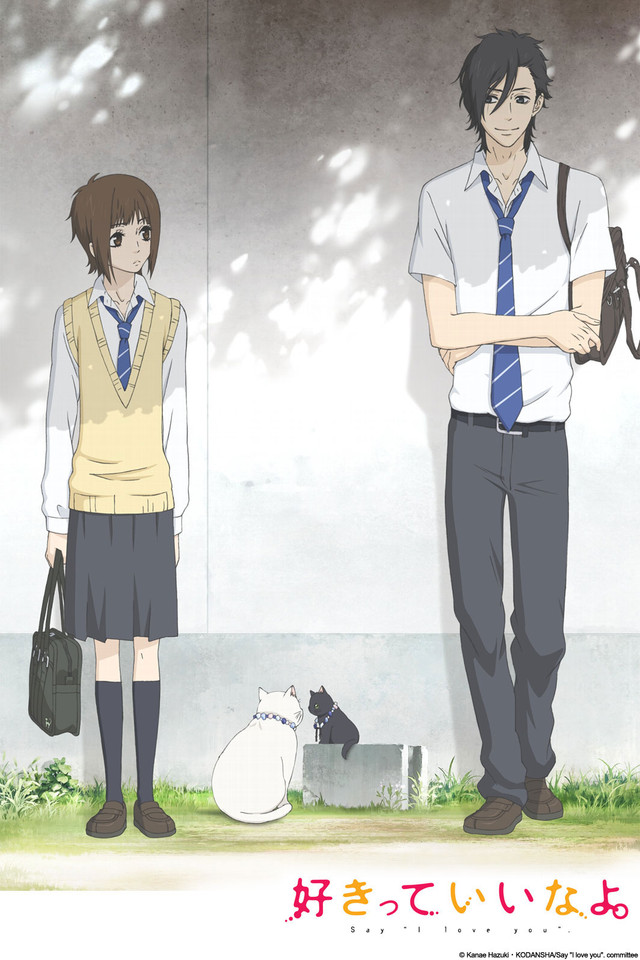 Another romance anime, which surprised me since I'm usually not a fan of this genre. This romance is between a popular guy and a shy girl, sounds really cliche I know. But the romance in this anime works like an actual romance, the two characters aren't instantly in love with each other, and their feelings take a while to develop. I really thought that was unique and enjoyed that part of the show immensely. If you're not a huge fan of romance anime, but enjoy character development and well written relations between them, I definitely recommend this one. Also I love the opening to this anime, the song is gorgeous.
Terror in Resonance:

I can honestly say this was probably my overall favorite of the year, and I'm completely serious. The plot is unlike anything I've ever watched. It's about two teenage boys who escaped an experiment facility and now are terrorizing the people of Japan as their revenge. It sounds kind of weird, and at first I thought it was yaoi based on Funimation's trailer, but a girl is introduced and the relationship between her and the two guys, is so well written. One of them hates her and sees her as a failure, and the other cares about her, but also acts creepy towards her. You feel sympathetic towards all the characters and the beautiful animation compliments this show perfectly. Also the opening to this anime is one of my favorites too.
Date A Live:
One of the weirdest anime I saw this year by far. The plot of this is that spirits from other worlds are teleporting to earth, creating earthquakes. There are two organizations trying to stop the spirits; one is using weapons and violence to kill them, and the other is taking the spirits out on dates and locking their powers with a kiss...Yeah it's weird, but I really enjoyed it. It's classified as a harem anime and usually I don't really like this genre. However when watching this, I really didn't see it as such. The main romance is between the main guy character and the first spirit he interacts with, and their relationship is really heartfelt and cute. I do like the other spirits too, and apparently there's a second season, and I plan on watching it soon.
Nisekoi:
As I watched this anime, I realized how similar it is to another favorite anime of mine, ToraDora. It's about a guy who ten years ago made a promise with a girl that they'd get married, and exchanged lock and key necklaces. Of course he doesn't remember the girl's name, and forgets about it till he is forced to date a girl in his class, who's a classic tsundere. I really enjoyed this anime. Visually it's pretty and I really liked the tsundere character. I will just say that I found the ending unsatisfying, but I heard they may make a second season, so I'm hopeful.
Inuyasha:

I can't believe it's taken me so long to watch this. I did watch it as a kid, but I really wanted to re-watch it, now that I'm older. If you've never hear of this, basically it's about a girl who's transported to feudal Japan where she encounters demons in search of a jewel that grants immense power. What I've enjoyed about starting this from the beginning is reliving my nostalgia for this anime, and reliving my crush over Inuyasha <3 I do enjoy the action scenes along with the character development, and how together they create a really enjoyable anime. If you like action, watch it. If you like drama and romance, watch it. If you like both, watch it.
Puella Magi Madoka Magica:
Don't let the name of this anime fool you, it is dark. It's about magical girls, again don't be fooled, that fight witches. I can't say anymore without spoiling it, and you really don't want to spoil this for yourself. The dark topics that come up in the anime are really heart wrenching. Also the anime is visually beautiful. The witch worlds that they fight in are stunning. They're creepy and have very unique art styles and color schemes. If you want an anime on the dark side of magical girls, or you don't mind a little horrific tones, definitely give this a try.
So those were my top ten anime of 2014. If you guys have seen any of these anime or have any recommendations, let me know in the comments below. Thank you guys so much for reading and I'll see you at my next post.
xo
Alyss