Hey Guys~!
On today's installment of the 30 Day Anime Challenge, I'll be sharing my favorite Shoujo and Shonen anime. If you don't know what that means, generally speaking, Shoujo are anime targeted for a female audience and Shonen are targeted towards a male audience. I know there are exceptions, but I was just giving a basic definition. So let's start~~!
My favorite Shoujo Anime is . . . Kamisama Hajimemashita~!!
This anime is about a girl named Nanami who becomes homeless after her father with a gambling addiction abandons her and she's evicted from their house. By saving a guy from a dog, she ends up living in a shrine with a fox spirit, Tomoe.
I really liked this anime because the cast of characters work really well together. Nanami's relationship with Tomoe and the other male characters in the series. Also this anime combines supernatural elements, comedy, and romance, without ruining the serious moments. I have seen the second season, and I really hope this gets a third.
My favorite Shonen Anime is . . . Fairy Tail~!!
This shouldn't be that much of a surprise. Fairy Tail is about a world where some people are mages, meaning they have magical powers. There are guilds of these mages, and this anime follows the Fairy Tail guild and it's members.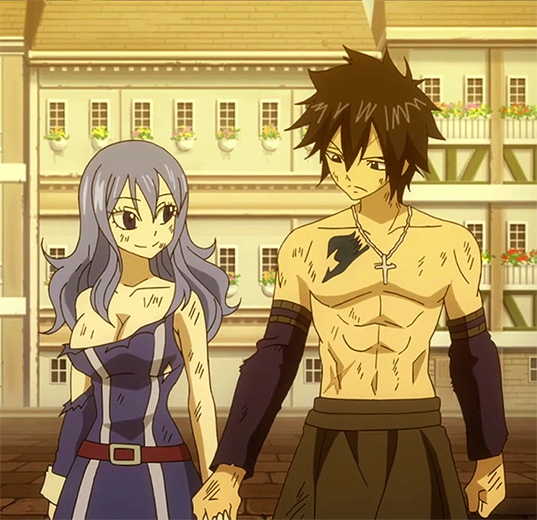 I love this anime for the characters and their relationships. In my favorite couples post, I shared two of my favorite Fairy Tail pairings, Gray x Juvia and Gajeel x Levy. All four of these characters are some of my favorites in the series. Juvia is my favorite character in the show, I just love her personality in contrast with the rest of the cast. Right now in the anime it is my favorite arc, Tartarous, and I'm happy with how it is so far.
I hope you guys enjoyed today's post. Share your favorite shoujo and shonen anime in the comments below, I love getting new recommendation and hearing about you guys's favorites. Thank you guys so much for reading and I'll see you at my next post.
xo
Alyss