Hey Guys~!
After a month full of lip product reviews, maybe I'll do another set of themed reviews? I really enjoyed comparing them all this month and I'd like to try that too with other makeup or skin care products. Anyways it's April, and officially spring, so now it's time for my monthly favorites. So let's start~~!
Makeup
Korres Lip Butter in Pomegranate: I've been obsessed this month from trying different lip colors, but this one from Korres is one of my favorites. It's a really nice jelly texture and the color is a nice pink tint. It makes my lips feel really moisturized and I just love it.
Maybelline Mega Plush Mascara: This mascara is coming back into my life, and I just love it. I used to wear this mascara in middle school and recently I've gotten back into it. It gives my lashes length and volume, without looking too dramatic. It's a great everyday mascara.
Urban Decay Naked Basics Palette: I haven't been super into eyeshadow this month, but when I wear it I've been using this palette. The colors are all nice neutrals and are super blend-able, making it really easy to create a variety of looks.
Jewelry and Accessories
Bow Necklace from Forever21: I love simple necklaces like this one for everyday. It's a gold bow, and you know I'm obsessed with anything with a bow or has a bow on it. I have gotten multiple compliments on this necklace, and it's easy to wear with anything.
Bunny Ear Sunglasses: Another thing with a bow~!! These sunglasses are super cute and I've been carrying them around in my purse so I can throw them on whenever it's sunny. I'll definitely wear them more often in the summer, but for now they are here to remind me warm weather is coming.
Nail Polish
Essie Nail Polish in For the Twirl of It: This is the month of Essie nail polishes. I wore this one at the beginning of the month, and I'd forgotten how much I love it. The duo chrome looks really interesting, especially if you wear a matte top coat over it.
Essie Nail Polish in Coat Azure: I have a lot of blue nail polish, and this one is just the perfect blue. It's not too crazy and looks really nice. It isn't a super bold blue, so I really think anyone can wear it.
Anime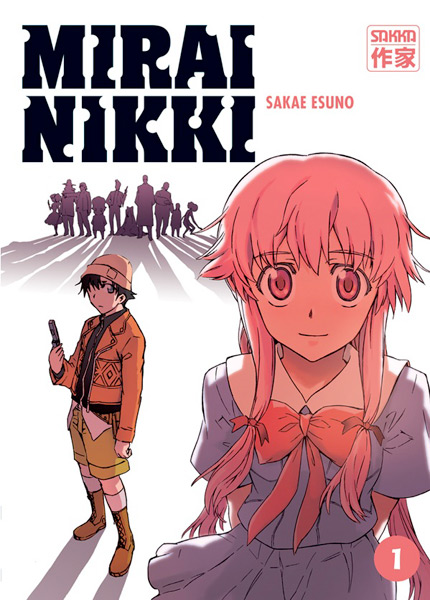 Mirrai Nikki: I just started this anime at the end of the month, but I can tell I'll really like it. I enjoy psychological horror anime and Mirrai Nikki, or Future Diary, is a great representation of the genre.
Those were my favorites from the month of March. Share some of your favorites in the comments below, I'd love to hear them. Also I'll be going to Anime Boston this weekend, and I have a super special announcement for you guys, so stay tuned on all the details. Thank you guys so much for reading and I'll see you at my next post.
xo
Alyss