Hey Guys~!
I have finished my first month of school. Only eight more months till I graduate~!! Anyway I have been busy and stressed out because of college applications, so doing my makeup, my skin care routine, and watching anime have been relaxing for me. Today I have some new products and things to share with you guys that I have been loving this month. So let's start~~!
Makeup
LORAC Pro Palette
This has been my everyday eyeshadow palette all month. I love the neutral eyeshadows and they blend lovely. It's also great for darker evening looks. I love it as much as any palette I own from Urban Decay or Too Faced.
Maybelline Mega Plush Mascara
It has been a long time since I've used this mascara, but recently I got back into using it. Unlike some of my other mascaras, that I do like, it gives my lashes nice length and volume without clumping them together.
Revlon Colorburst Matte Balm in Elusive
I used to hate this product, but I decided not to waste it and attempt to use it. Surprisingly, I somehow fell in love with it. The color is a natural baby pink, which is growing on me. The matte formula can be a little drying, so I carry lip balm on me if I'm wearing it.
Nail Polish
Essie Parka Perfect
I wore this polish all month. It's a pale blue grey color that I think goes with just about anything. I put a matte top coat over it, which gave it a clean and chic look. It is definitely one of my new favorite polishes now.
Skin Care
Lush Ocean Salt
This is a sample size because it's kind of pricey. It's an all natural facial scrub and I love it. It gets rid of any dry skin I have without irritating my face, like some others do. I am planning on buying the full size now so I can write a more in depth review.
Fashion and Accessories
G.H. Bass & CO. Fiona Boots in Brown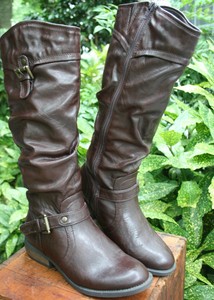 I can't find these on the Bass website anymore, sadly, but there are tons of slouched boots being sold everywhere. They go up to my knee and are super comfy. The style makes them both casual and classy, so I can wear them with any outfit.
Anime
Your Lie in April
I started watching this anime this month, after my friend begged me to watch it. The story is about two musicians with different views on music and through some events they come together as a team. I'm around six episodes in and so far I'm really enjoying it. The opening song is lovely.
Yona of the Dawn

I meant to finish this a while ago, and this month I went through half of it. The characters are all really enjoyable, and I really got invested in their goals. The music is also great in this series, it took a bit for the second opening to grow on me though. I totally recommend it to anyone.
I hope you all enjoyed hearing about this past month's favorites. In the comments down below, share some of your favorites from the past month. I love hearing from you guys and your opinions. Thank you guys so much for reading and I'll see you at my next post.
xo
Alyss
/