Hey Guys~!
I am back with Day #3 of the Anime Challenge~! Today I will be spilling my feels as I share my anime crushes. The question does ask for one, but I can't choose~!! In this post I'll tell you guys five of my anime crushes, not in any order and just know there are a million more. So let's start~~!
1.) Gray Fullbuster from Fairy Tail
Okay, he's shirtless a majority of the anime . . . and they drew him really well . . . I'm allowed a little self indulgence as a fangirl, okay~!? As a character, he's a bit of a bad boy who has a hard time dealing with other people's emotions, mainly Juvia's, but he's just so protective of the people he cares about, especially Juvia. And back to my self indulgences, he has a stripping problem and he ends up taking off his shirt . . . A LOT~!!
2.) Tomoe from Kanisama Kiss
Thank you J Michael Tatum for giving this character the perfect voice. Tomoe is a a fox spirit who is supposed to protect the God of his shrine, Nanami. He's super protective of Nanami, which makes me just fawn over him whenever he saves her. Also he does have a soft side that he keeps hidden, which makes him just so perfect.
3.) Haruka Tenou/Sailor Uranus from Sailor Moon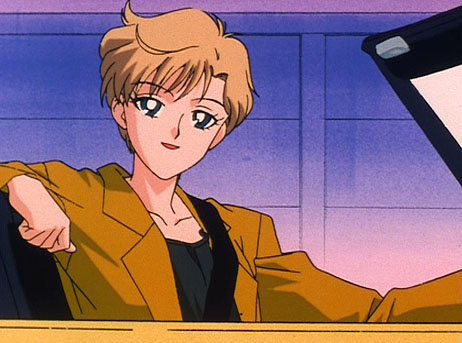 The only anime girl I will ever love~! Haruka again is protective of the people she cares about, I guess I really like overly protective people . . .Just noticed that. Anyways, I just think she's perfect. She's athletic, can fix a car, and is a magical girl~! I would be jealous of her transformation scene, but I can just live vicariously through her as she protects me.
4.) Ikuto Tsukiyomi from Shugo Chara
A violin playing, blue haired, magical boy. . . Yep they really do exist. Ikuto is just so beautiful, and like I said, he plays violin, which is my favorite instrument. I just love it when guys play instruments, I think being musically talented is really attractive. And yeah, he's a magical boy, with kitty ears and a tail . . . What else could I want in life?
5.) Hikaru Hitachiin from Ouran High School Host Club
I had to include someone from Ouran. Everyone who watched Ouran has a favorite host, and mine was Hikaru. *Spoilers* The episode where he goes on a date with Haruhi and he comforts her during the thunder storm made my heart melt. He's protective, funny, and a bit flirtatious as well, all great qualities, in my opinion.
I hope you guys enjoyed Day #3, my Anime Crushes. Share some of your anime or cartoon crushes in the comments below, I'd love to hear about the other fictional guys and girls that have you guy's heart. Thank you guys so much for reading and I'll see you at my next post.
xo
Alyss